The Fish Tank: And Other Short Stories
SHORT STORIES ABOUT STRONG WOMEN, CUBAN EXILE, GHOSTS . . . AND A MURDER..
"The Fish Tank is a gracefully-written, varied collection of entertaining, touching, suspenseful, and thought-provoking short stories. Maria Elena skillfully paints rich scenes and crafts interesting characters. Her prose is vivid and distinct. You will not want to miss this collection!" – NY Literary Magazine.
SILVER MEDAL WINNER OF READERS' FAVORITE 2018 INTERNATIONAL BOOK AWARDS
SILVER MEDAL WINNER OF 2018 FEATHERED QUILL BOOK AWARDS
2018 B.R.A.G. Medallion Honore
An unexpected treasure handed over from an ex-spouse via the divorce lawyer; a classic mother-son bonding experience on a roller coaster ride; tragic tales of survival of ordinary Cuban citizens in the 1960s; a paranormal happening in the Museum of the Weird, the Sad, and the Wretched; and a complex murder mystery; a short fanciful poem – all of these stories in one volume from the mind of romantic suspense author Maria Elena Alonso-Sierra that will take your imagination on a ride across all genres.
Delve into For the Fun of Writing, where flights of fancy are given voice in "Jerry's Gift" and "Rites of Passage." Glide into Soul Songs, stories from the Cuban Diaspora, where the author weaves many of her own exile experiences in "The Fish Tank" (award winner), "Bubbles Don't Bring Smiles," "Lullaby," and "A Day in the Life of Benito José Fuentes." Take a peek at Prologues, two prequel short stories that introduce characters in upcoming novels. Twists and turns run rampant in "Into the Light," and "Mirror, Mirror: A Detective Nick Larson Story." Finally, enjoy, The End, a short short of whimsy in "Everyone's a Critic."
A brilliant collection of short stories.
The stories move along briskly and leave you gobsmacked at the end. Well worth re-reading them as well as they are that good.
---
It was amazing by Denise Langley on October 19, 2020
I love anthologies for their short story impacts and the opportunity to find new authors. This one is a little different as all of the stories are by one author. I had never read any of her work before but the stories in THE FISH TANK clearly exhibit Alonso=Sierra's extraordinary skills and her ability to capture the reader in each story and hold them there while she unwinds each tale in unexpected and completely different ways. No two are the same, yet each is equally spell binding. Now I have to go check out the rest of her library.
It Was Amazing by Alison on January 4, 2021
---
The Fish Tank and Other Short Stories is an impressive introduction to Maria Elena Alonso-Sierra's writing. It's rare I can equally highly appreciate every story in a short story collection – usually there's at least one or two which don't work so well for me – but that is absolutely not the case here. In her opening Note To The Reader, Alonso-Sierra states that "With short stories, a writer has to gut punch the reader immediately … Characters must be real from the first words spoken. Conflict must be intense, almost at the climax point, and the resolution finished sometimes subtly, sometimes shockingly, and sometimes not necessarily as a happily ever after." Strong words, I thought, and then was delighted to discover that, story after story, Alonso-Sierra takes her own advice seriously, delivering brilliantly on every point.
My favourite stories are both from the Soul Songs quartet in which we get inside views of life with Castro's Cuba and for emigrant Cubans who have fled their country. I could easily understand why The Fish Tank is an award winner and A Day in the Life of Benito José Fuentes was also a standout tale for me. Alonso-Sierra portrays a much darker reality than, say, Teresa Dovalpage, with the menace from both Castro's police and from American border staff leaping vividly from the page. On a completely different yet equally as scary note, supernatural horror story Into The Light would make a perfect Halloween read. The Fish Tank and Other Short Stories is a concise collection of just nine tales, but it is one that I am very happy to recommend widely. It's well worth a reader's attention especially at its ridiculously low ebook price.
It was Amazing by Stephanie Jane (Literary Flits) on October 12, 2020
---
I love true short stories! This is a great collection that evokes plenty of emotion and is a bit haunting. One could buzz through these and be done in a lunch hour, but that would be a pity. Like a fine wine, this should be enjoyed and pondered and savored. It would be so much better to read one per day and enjoy the gift that each story plants in your heart. From sharing an adventure with your son to allowing your ex to screw himself over to broken dollies, each story is a treasure. I will make a point of reading more of this author's work. I received this ARC book for free from Net Galley and this is my honest review.
Wonderful Collection of Feelings by GranJan on October 11, 2020
---
Very good stories in this book. Something for everyone although I enjoyed all of them. Thanks to Netgalley, the author and the publisher for the arc of this book in return for my honest review. Receiving the book in this manner had no bearing on this review.
Really liked it on September 20, 2020 by Vnunez-Ms_luv2read
---
A good solid set of short stories. I especially enjoyed those grouped as "Soul Songs (Stories from the Cuban Diaspora)."
I really liked it on February 26, 2020 by Kelly Miess
---
I read this book as part of an online book club. I have read other works of fiction by this author and love her. This collection of short stories was something different though. Through them I felt a connection to the authors life as a Cuban woman. The section Soul Songs (Stories from the Cuban Diaspora) were particularly enlightening and heartwarming. The story 'Rites of Passage' I think I connected to on a personal level which was a lot of fun. I was also excited at the prospect of new suspense fiction in the section Prologues which whet my whistle for the stories that might come with it. Overall, this was a wonderful collection of short stories.
Wonderful Collection of Short Stories
---
Thank you for the copy of this short story collection. I particularly liked the detective story and would like to read more about that character.
Really liked it by Mary Beth, Goodreads on December 24, 2018
---
Two things.
One, I am a hard person to please when it comes to reading.
You see, I don't much care for populist stories, they are all a bit same-old, same-old. They pander to the lowest common denominator in a sad and futile race for numbers.
I look for stories written from an interesting perspective, ones which touch the soul, stimulate the mind and provoke thought. Elements so often overlooked in favour of the mindless banality which tends to pass for entertainment.
Secondly, I rarely write reviews.
I think I have put pen to paper this way four times in as many years.
Therefore, it is not without reason I write this article, call it a review if you wish, about a book called The Fish Tank & other stories, written by Maria Elena Alonso-Sierra.
I first came across this book whilst editing 'The List', an annual recommended reading list published by CQ International. The cover, designed by Scott Carpenter grabbed my attention, exactly as a good cover should.
A little later, I was asked by an author friend if I would read an ARC. I did, hence this rambling account.
I was intrigued by the first tale, Jerry's Gift, which sort of sets the feeling for the entire book. I say 'sort of' because the ambience of each unfolding story moodily fluctuates while continuing the ambience of haunting hope interwoven with a lingering sadness of passing.
The title tale, the Fish Tank, brings to life the stark reality of the author's experience as a child leaving Castro's Cuba for a life in exile.
After reading The Fish Tank, I understand Maria's statement about writing these short stories, "I never suspected creating the short stories would tear at the scab protecting a deep wound I still harbour in my heart, one that will not quite properly heal."
Each story is narrated beautifully; the well-paced revealing of the characters and their situations makes each tale a joy to read, easily flowing from start to the end.
Reading this book allowed me to glimpse into people's personal and private lives, to live with them as they feared for what the next day, the next hour may bring and, I felt the subdued passion of hope, as the teasing dreams of a better future dangle tantalisingly a fingertip away.
As I said at the beginning, I am a hard person to please when it comes to reading, which is why I rarely write reviews.
Enough said.
A Look into The Fish Tank by Paul – Amazon UK on November 2, 2018
---
This is the first book I have read by Maria Elena Alonso-Sierra, but definitely not the last. You can easily see that she has put her heart and soul into every story. All are written in a different genre showing the versatility of this author. Maria Elena could have easily turned every one into a full blown novel. I can't pick a favorite because they are all so well written. Each story comes alive on the first page. All have completely fleshed out characters and their worlds are complete. It feels like you are right there in the middle of the action. I highly recommend this book and others written by Maria Elena Alonso-Sierra.
Heart and Soul in Short Stories by Red48 on October 6, 2018
---
I recently met Maria and her sister at a book-signing event. Without question, she's a very good writer. Just a few pages in and I'm committed.
A book to curl up with! By TM Brown on July 27, 2018
---
We are proud to announce that FISH TANK: and Other Short Stories by Maria Elena Alonso-Sierra is a B.R.A.G.Medallion Honoree. This tells readers that this book is well worth their time and money!
This book is well written, with a variety of very interesting stories. The title and book cover focus only on one story in the book. Each story is very interesting and I really liked the variety. I liked the author style of writing and found the entire book very interesting and entertaining.
This was a very interesting read for me- I am not very informed on the Cuban situation. I found this enlightening and helpful in giving me a vivid picture of what it was like in revolutionary Cuba. I did find some of the stories a bit slow but overall they kept my attention. I definitely would read more by this author. Thank you.
Award Winning B.R.A.G. Medallion Honoree By indieBRAG on June 24, 2018
---
Great book filled with interesting and enjoyable stories. I enjoyed them all.
Great Book By Fred Fanning on April 28, 2018
---
I do not usually enjoy short stories, but I did really enjoy this book and look forward to reading more by this author.
Great read By Dancer89 on March 16, 2018
---
Life in Cuba during the early days of the Castro regime, a crazy roller coaster ride, and a murder mystery are just a few of the short story topics that will grab your attention in The Fish Tank.
This wonderful collection of short stories begins with "Jerry's Gift," a fun tale of a recently divorced woman who gets a final, unexpected gift from her louse of an ex-husband. At just two and a half-pages in length, it's hard to imagine getting sucked into the story, but that's exactly what happened to this reviewer. Maureen is in her great-grandfather's home, now her home, which she plans to renovate, thanks to Jerry's gift. The author expertly sets the mood, complete with a porch and a glass of lemonade that will keep you wondering about that gift. When the truth is revealed, every divorced woman will likely expel a gleeful laugh. Sweet justice is fun.
From a gift to a crazy roller coaster ride that will get your heart pounding, the author next moves to her most personal section, several stories based in/about Cuba, her birthplace, but no longer her "home." The title story, "The Fish Tank," centers on a little girl, Matilde, and her mother, as they wait at the airport in Cuba. Matilde and her mother, along with several other Cubans, have been granted passage out of Cuba. But first, they must wait in a glassed-in room, where other travelers can look and gawk at them. Don't fidget, Matilde tells herself, just as her mother warned. The last thing they want to do is draw attention to themselves. Matilde clings to her doll and listens silently to the whispers of the adults. Don't twitch, don't fidget, and don't touch her skirt, she tells herself again. The tension is thick in the room as the passengers wait to see if they will indeed be granted a spot on the plane.
Three more stories about life in Cuba or Cubans who have escaped follow and again, each draws the reader into the lives of the various characters. Next it's a complete change of pace with a museum that just might be haunted…or is it? Then it's on to a fun "who-dun-it" story staring Detective Nick Larson. The murder he's investigating seems pretty straightforward, particularly since it was caught on tape by the home's security system. However, something in Nick's gut is telling him it's not right – sure, the couple was separated, heading for divorce, but still…
Within the first few paragraphs of the first story, I knew that the author had mastered the genre and that The Fish Tank was going to be a very good read. The author set the stage quickly in each story, wasting no words, but through her perfect descriptive language, drawing an image, or a plot, that jumped off the pages. In "The Fish Tank," as the hopeful passengers wait, tension slowly rises and it's easy to get a sense of what the characters must have felt. Even in a story as light-hearted as "Rites of Passage" where a mother is taking her son on a roller coaster ride, a ride she definitely does not want to go on, the slow build-up of nerves as they wait in line, the quickening of the mother's heartbeat, her sweaty palms, everything in fact, builds it up perfectly and I had images of the last time I'd braved such a ride. Each and every story in this book was one I thoroughly enjoyed and the characters have lingered in my mind long after I closed the book.
Quill says: The Fish Tank is at times fun, exhilarating, haunting and intriguing. The author has done an excellent job of capturing the essence of the short story genre in this fantastic collection.
Haunting and Intriguing…by Holly Connors at Feathered Quill on December 23, 2017
---
Maria Elena Alonso-Sierra's The Fish Tank and Other Short Stories will capture your heart and imagination. Each short story transports you to a different time, a different place. From Section 3: (Stories from the Cuban Diaspora) , you are taken to a time where the wrong action, the wrong word could be life or death. In the short story Into the Light, you are in a paranormal story that has an anomaly that you don't, (but you do!), want to know why lies beyond. In Jerry's Gift and the Rite of Passage, each story edifies a strong woman finding her way.
Each story within The Fish Tank: and Other Short Stories is a wrapped gift. With each word written, Maria Elena opens the heart of the story that will find a place within your heart.
A Priceless Gift By Chickie on December 19, 2017
---
Maria Elena Alonso-Sierra's short stories collection "The Fish Tank: And Other Short Stories" is a jewel.
Of the four sections, "For the Fun of Writing (Just Because), Soul Songs (Stories from the Cuban Diaspora), Prologues (prequel stories from upcoming novels), and The End," Soul Songs impressed me the most. Having lived in the Florida Keys, home to many Cuban refugees, Alonso-Sierra's stories reminded me of similar stories I have heard.
Alonso-Sierra's gift for writing allows the readers to "see" her characters' thinking, struggle with conflict, and the will to overcome whatever the obstacle.
Her book features a lot of strong women and I liked that.
In "Jerry's Gift" it's Maureen who got out of a non-working marriage. Though she supported her ex, Jerry, while he studied corporate law, he did not value her as a partner and his family did not treasure her. But Jerry isn't as perfect as he thinks. Busy with philandering and trying to manipulate things so Maureen'd get as little money as possible, Jerry forgot that had hid her jewelry together with his late grandmother's. And, since Jerry, not Maureen, took the jewelry out of the safety box nobody would ever be able to track it back to her.
But, having taken "the gift" Maureen doesn't sit idle, she builds a new life for herself. And, she enjoys it.
"… Every afternoon, after she stopped the refurbishing, she made a pitcher of lemonade and sat facing the eighty-year-old maple trees at the edge of the property. Her ritual. Her space. Her world…"
In "Rites of Passage" it's Kate who overcomes her disliking of roller coasters to support her son Bryan. Finally tall enough, Bryan wants to ride the highest, scariest roller coaster but his father won't let him go alone or ride with him. Supporting Bryan is so empowering that Kate overcomes her own emotional restraints.
"… With a heartfelt sigh, I stand in line again."
In "Bubbles Don't Bring Smiles" it's Abue Cachita (Abue, shortened from abuela, Spanish for grandmother) who keeps her cool as Castro's soldiers are approaching, searching for American goods while the "… glorious Comandante (Castro) is at the front lines. He will not cower to the enemy that threatens to destroy our glorious revolution."…"
Alonso-Sierra features not only clever women stores, there is also a detective Nick Larson Story, with a Alonso-Sierra's third novel about his detective work forthcoming.
Maybe not surprising the story that moved me the most is The Fish Tank* (*2015 Finalist at Carried in Waves Contest from the University of Cork, Ireland), also depicted on the cover.
The opening of this story holds the clue.
"… (Matilda's) back created a perfect parallel to the chair's backrest barely two inches behind her, and the organza skirt she wore, a faded green, frothed around her legs, its color a pitiful contrast against the vivid white petticoat underneath. She tried not to move, unlike the other adults inside the room who shifted nervously in kaleidoscope patterns…" Matilda is about to leave Cuba with her mother. They are going to join her Papi who escaped after the Playa Girón invasion. Matilda brings only one toy, "… a beautiful Snow White doll, crafted in Switzerland, with a smooth porcelain face, round innocent eyes, rosy cheeks, and a pout for a smile. A family heirloom, handed down from mother to daughter for four generations…"
As she waits with her mother in "the fish tank," a holding room, suspense rises by the minute. People are still getting removed, they won't make it to freedom. When Matilda and her mother are finally about to leave, one of the guards notices the doll… (no spoilers from this reviewer)
Remember, the clue was in the opening of the story! Things are never obvious.
It's another "strong woman"-story, only this time is a girl.
LOVED this book. A must-read for Floridians, Cubans, women, history buffs, and lovers of good books.
A jewel ***** By Gisela Hausmann on November 4, 2017
---
A very quick read that flows deeper into the human condition, exposing the heart of the truth. From motherhood to émigrés, Alonso-Sierra is able to succinctly wrap up the human condition in an entertaining collection that will leave you feeling connected to the world around you.
Gisela Hausmann, author & blogger
A collection full of heart By pearls on August 19, 2017
---
I picked up the paperback at a book signing in San Antonio and am just blown away! This is a series of short stories, each story with something unique to say. They range from funny to poignant to sad to whimsical. At the turn of every page, you want to see what Maria Elena is going to say next. Her writing has such a lyrical quality that it is almost like reading the lyrics to a song. Beautifully descriptive, you clearly see every character, every image as she describes it. She transports you to a roller coaster at theme park and a home in her native Cuba to a haunted house, and, with each story, you can't help but be in her world. In the end, you are just thrilled that she invited you.
I loved her books The Coin and The Book of Hours but this is something very different. It feels completely personal, like we have stepped into her skin for a peek. I can't say enough good things about it so just pick it up and get ready to get lost in her magic.
Pure Magic By A. Cleaver on July 2, 2017
---
An unexpected treasure handed over from an ex-spouse via the divorce lawyer; a classic mother-son bonding experience on a roller coaster ride; tragic tales of survival of ordinary Cuban citizens in the 1960s; a paranormal happening in the Museum of the Weird, the Sad, and the Wretched; and a complex murder mystery – all of these stories in one volume. The Fish Tank and Other Short Stories by Maria Elena Alonso-Sierra reveals life stories in the raw with a compassion for reality and the fantastical.
Maria Elena is a marvellous storyteller. She presents her narrative with overwhelming descriptive power and unexpected and surprising twists and turns. The plots are cleverly orchestrated with characters that come alive with compassion, both good and evil. Her protagonists are strong and endearing, particularly in her Cuban stories which depict an era of unspoken horrors and frightening scenarios. The suspense leading up to the climax pulls the reader along on a roller coaster ride filled with adventure to a climax that certainly doesn't disappoint – it rather fills the reader with a sense of awe as the reader realizes the power behind the narrative and the unusual path that the author has followed. The resolution reaffirms the author's intent: to provide the reader with a certain "wow" factor in the story itself. From suspense, to romance, to real-life stories from the author's own past, the finely tuned craft of the short story is clearly evident in this collection. Each story is engaging, thought-provoking and memorable. This is clearly an author who writes with style and with class.
Thought-provoking and Memorable… by Emily-Jane Hills Orford for Readers' Favorite on May 19, 2017
---
Great short stories!!!! which reminded me of my own childhood leaving Cuba as our homeland.
Five Stars By Dr. Agamemnon Gus Pantel, Ph.D. on March 8, 2017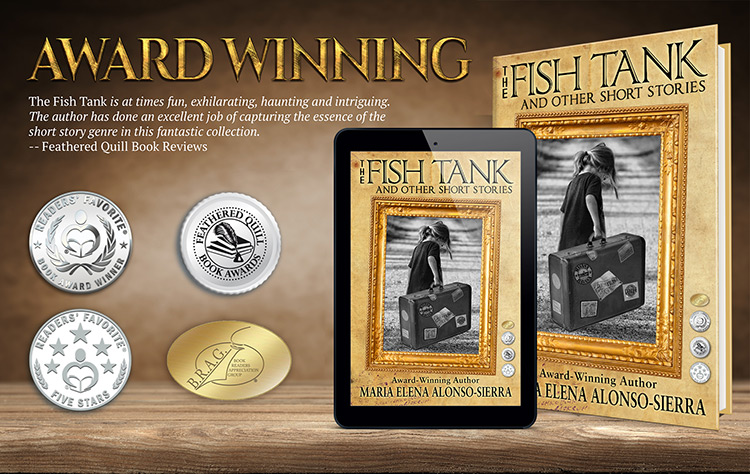 A preview of the excerpt on Amazon should have opened in a new window. If you do not see that window, click on the button below to access the excerpt.