The Book of Hours
For Artist Gabriela Martinez, Psychopaths do hit twice.
Set in California and London, The Book of Hours, the follow-up to The Coin, is a story about greed, obsession, family duty, and especially, deserved second chances.
A LOVE IN JEOPARDY
In 1993, artist Gabriela Martinez almost lost her life to a sociopath's twisted vision. If not for Richard Harrison, the operative sent to protect her, she would have ended up dead.
A NEW THREAT
After catching a glimpse of Gabriela's new artwork, The Book of Hours, Arnold Wickeham has been like a man possessed. Now, he will do anything—anything—in order to claim it. Nothing, especially not Gabriela, will stand in his way.
THE PAST IS CATCHING UP
Richard Harrison has never given up on his true love, Gabriela. Now someone new is threatening her life, and he will risk everything to protect her. But the stakes are now higher, and there is much more to lose. And if he doesn't stay one step ahead of the danger, her life, but mainly their future, may very well go up in flames.
Richard and Gabriela are back in this second book to the Coin/Hours duology. Gabriela is yet again in danger. She hasn't spoken to Richard in years. Her husband is indisposed and she is caring for her two teenage sons and a three-year-old son. Even though she has hired a bodyguard to watch the household, danger is still present and wants her work that she plans to auction off.
When a priest, not Gabriela, contacts Richard and asks for help, he comes running. When he gets to her, old feelings that never died are reinforced even more.
Opinion:
This duology is a fantastic read. I highly suggest that you read The Coin first. You will want to follow it quickly with this book. Together, they are suspenseful, both with danger and with romance. I could not help but anticipate what was coming next as my mind would wander to the book when I wasn't reading it. However, there are so many parts of this book that come unexpectedly that I was not successful at all. All of these curve balls kept me intrigued.
Many thanks to Bare Naked Words for providing me with an ARC of this book.
A Fantastic Read! by D. Devine of A Devine Read on February 26, 2022
---
HOLY HELL! I think I LOVED The Book of Hours even more than The Coin if possible. It's been some time since Richard & Gabriela's last crazy journey filled with danger. Of course, Gabiela is now in danger again because she won't sell something to a person who shouldn't be allowed out anywhere on his own since that person is like a spoiled child who wants to bully their way into getting what they want so let the games begin. Once again, I was drawn in completely from the jump as this story hijacked all my attention until every last page was devoured. The twists were coming in hot, and my head was spinning trying to figure out how it would all pan out, not to mention poor Richard, and his unrequited love for his charge. I've fallen completely in love with this brilliant author so I'll just be over here impatiently waiting on the next book as I HIGHLY HIGHLY HIGHLY RECOMMEND!
#MOREINTENSETHRILLRIDE by Jennifer Pierson of The Power of Three Readers on February 25, 2022
---
Just like The Coin, The Book of Hours is a fast-paced, suspenseful read that will keep you guessing! Highly recommended if you like this genre.
Suspenseful by Bare Naked Words Blog on February 25, 2022
---
Gabriela. His only love. His Achilles heel.
Richard and Gabriela are back together again. This second book is much more intense than the first in my opinion. A fascinating mystery that keeps you reverted to the pages.
"Gabriela is giving herself a chance, trusting you will be there in the wings if she ever needs you. Don't fail her by not being there as you promised."
Mystery Romance by Patricia A. White – Read All About It on February 8, 2022
---
The Book of Hours is the second installment of the Cycle Series. I suggest reading The Coin first to get the full backstory.
Four years later after the incident with Albert a lot has changed for Gabriela. Another child, her career has taken off, her husband's accident and threats.
When Richard was contacted about Gabriela's threats he rushed to her side hoping there was still a chance. He lived in limbo for four long years wishing she would have contacted him. Upon seeing her his heart flipped. He wanted to kiss her.
Touch her…
Until a little mimicry shriek caught his attention. He couldn't take his eyes away.
While learning about the threats, Richard was determined to protect her and her family once again. But where was her husband Roberto?
Gabriela was determined not to sell her Book of Hours to the nasty individual who was making threats and causing havoc in her life.
Evil is lurking in the shadows, waiting for the perfect opportunity to strike to get what he feels like he deserves The Book of Hours.
A romantic thriller that will keep you intrigued from beginning to end.
Romantic Thriller by Romaine on February 6, 2022
---
Mesmerizing tale from beginning to the end. Love the energy and smooth flow. Villains abound while pure love stands strong.
Outstanding by Viola Howard on December 18, 2021
---
Great sequel to The Coin, a really top read from start to finish – exciting and satisfying plus very good twists to the plot. 5 1/2 Stars. What a refreshing change to have a sequel to a novel start exactly where the other left off. I enjoyed The Coin so much I wanted to continue reading immediately, especially to see Gabriela and Richard reconnect. I think that it was very clever to have the block to their relationship still in the way right to the end and for Gabriela to make peace with herself over her unfaithfulness to Roberto, sad that he had to die but makes for a pretty final exit of the major stumbling block. A nice final twist to Gabriela's head to head with Arnold Wickeham, who up until when he thinks he has what he wants and has engineered everything to be in his favour, it's the one small detail that he misses that costs him everything – a name. I didn't see that one coming! Maurice is a very likeable character who seems to be the one able to be in the right places at the right time to pull a rabbit from a hat and has a nice nasty side to him that is obviously necessary to keep from the public eye. Overall the plot moved in all the right directions for me with the satisfaction of vengeance in the end for the evils perpetrated by Wickeham and his cohorts. All in all a very satisfying read and I hope to see heroes of this appear again in further books. I would recommend this book to anyone who likes either a ripping good thriller or a steamy romance as it has both going for it.
Great Sequel to The Coin by Keith Williams at StoryOrigin on July 7, 2020 (SPOILER ALERT!)
---
An intriguing story of greed, family duty and more. A perfect follow up to the Coin. Absolutely worth the read.
Superb by Jackie T. on July 7, 2020
---
Outstanding story. First time author for me and definitely not the last. An intriguing book that keeps you reading. Don't miss out.
Outstanding Story by Jackie Stansky at StoryOrigin on July 6, 2020
---
What an intriguing book. Gabriela is hoping she can have a good life but danger is there instead. Once you start, you can't put the book down.
It was amazing by Jackie on July 6, 2020
---
I immediately purchased this book after reading book 1, The Coin, because I had to know what would happen next with Gabriela and Richard. This was another excellent tale of romance and suspense woven by Maria Elena Alonso-Sierra. It was full of action, and love. In it Gabriela is once again in danger and Richard must use his expert skills to protect her. But don't be fooled, Gabriela is one tough cookie, she is strong-willed and smart, and will not sit idly by when someone threatens her and her family. Beautiful, beautiful story.
Another excellent tale of romance and suspense! By TM Witko on February 3, 2018
---
I liked this one very much.
Five Stars By Jacqueline A. Potts on August 21, 2017
---
At last, the wait is over! In "The Book of Hours" the beautiful Cuban born artist Gabriela Martinez is once again under siege by a maniacal villain who lusts after her latest artistic triumph…the lovely, mesmerizing Book of Hours…a work evoking both medieval and byzantine overtones. Her protector, the now ex-secret agent Richard Harrison, must rescue her anew while yearning to fan the flames of love to life from the white hot embers of the love still burning deep withing their hearts. Find out if love triumphs as this new caper twists and turns thru the art worlds of America and England.
Like an artist using charcoal, pastels, tempera or oils to create a picture,,Maria Elena Alonso-Sierra reweaves the lives of her finely drawn characters from her widely acclaimed first novel "The Coin" into a brand new adventure. Familiar characters are reintroduced along with the host of new ones each adding distinct flavors to the romantic thriller as it cascades to a thunderous conclusion. It is a very pleasurable read, hard to put down, one that will leave you wanting more… Enjoy! Is there a trilogy on the horizon? Fans of Gabriela and Richard can only hope so….
In "The Book of Hours" the beautiful Cuban born artist Gabriela Martinez is once again under … By richard sciandra on March 5, 2017
---
A great continuation of "The Coin". I didn't think this book could be as good as the first, but I was wrong. So much action it made me dizzy. I loved every bit of the romance, good, bad, and in between. I hated to see it end. Very good writing all the way through and the story kept me on the edge of my seat.
Excitement 'til the very end By ickie on February 19, 2017
---
Excellent!
Five Stars By Amazon Customer on January 26, 2017
---
I loved both books and can only say I liked "The … By Anna on December 11, 2016
This was just as exciting as the first book. The people are well drawn and interesting. The story is fascinating and I couldn't stop reading. I loved both books and can only say I liked "The Coin" better because I knew another one followed and now there are no more. I wish them well and am sorry to see them go. This is most certainly a must read for mystery, thriller and romance fans.
---
Another thriller that takes you beyond the borders of the USA!! By Deborah S. Craft on August 27, 2016
This second book of Ms. Alonso-Sierra was another thriller that kept you reading. I love the way she paints a picture in the readers' mind as the story moves forward…never interfering with the flow of the novel. Her characters are well developed…some you hate and some you love, and of course the ones you love keep you reading hoping they will survive. I don't want to give anything away, but I will say if you're looking for a thriller Maria Elena Alonso-Sierra's books are a must read!! (The Coin & The Book of Hours)
---
MUST READ By Books, Reviews, Links, And A Little Extra on August 23, 2016
I received a gifted copy of this book from the author for an honest review
Dare I say that this may have been better than The Coin?
Along with the action, suspense, romance, and murder attempts who wouldn't enjoy this book?
I won't give any spoilers, all I say is, go get your book now by clicking above and enjoy!
---
Loved this book… By A Voice on May 9, 2016
I will not rewrite what the story is about, though I will write about my experience. This is the first time reading one of Maria's books and I thoroughly enjoyed it. Her book is written very smoothly. I read this book not as a sequel, but as a stand alone, able to grasp a lot of what happened in the first book and not feel as I missed something. This book has a lot of action and moves continually. Each character came to life, written with enough depth you know them. The love story was exceptional. It wasn't your typical romance story, it was slightly more complicated, which stirred your emotions. Add in a touch of "Criminal Minds" drama and you have a great book.
I was given this book to read, though I would give it the same rating even for a purchase. It stirred me and I hated to put it down. I look forward to reading another one of her books.
---
A rollercoaster ride By Fuzzy's Mom on March 17, 2016
Wow! This book never lets up. It takes the reader on a wild and rocky ride on both sides of the big pond with characters who are well drawn and compelling.
Gabriela is a famous artist who has recreated a beautiful Medieval manuscript. It is about to go to auction in London with the proceeds to fund a children's charity. She is approached by a despicable man who refuses to take no for an answer. As his attempts to persuade her become more and more dangerous, her former lover, and the father of her child, Richard, is asked to intervene. Much has changed in the years they have been apart but not their love for each other. This love gets tested time and again by manipulative people for whom "no" is not an acceptable answer.
The love story of Richard and Gabriela is fraught with danger but the reader cannot help but be carried along through every twist and turn and exciting challenge.
There is a previous book with the same characters. The Book of Hours is so good, I am going to search out the prequel and read it too.
I give it a high recommendation.
---
Gifted book for honest review – juliesbookreview.blogspot.com By Theresa F on March 16, 2016
Gabriela Martinez and Richard Harrison first meet in Ms. Alonso-Sierra's "The Coin." I urge the reader to go there before beginning this page-turner. The love relationship between Gabriela and Richard starts in the first book 4 years before the "Book of Hours." The reader doesn't have to know the details of the first book to understand the 2nd, but it helps.
The original Book of Hours is a Christian devotional book popular in the Middle Ages. It is an illuminated manuscript, meaning that it is filled with intricate and ornate lettering and figures. In that respect, this Book of Hours is similar. Gabriela Martinez has made a copy of the original, for which collectors are more than willing to pay huge sums at auction. One collector is willing to kill for it. Therein is the reason that Gabriela and Richard are re-united.
This novel is a cocktail thriller mixed with love and madness. There are moments when you may feel you've drunk too much with all the novel's twists and turns but it's a pleasant hangover.
More importantly, you will be wishing to read more of Gabriela and Richard at story's end.
---
Another great book By A Plant on January 18, 2016
The return of Richard and Gabriela, with a hugely different set of circumstances. Different country, different everything. Again full of intrigue etc as before, with the added question of how can the pair resolve things from their previous lives. I won't spoil it.
The character of Wickeham is horrible, but truly fascinating. From the beginning you really despise him, and can see where he is going. He is the classic bully, awful but underneath he isn't so clever as he tries to tell people he is. The difference in Gabriela is amazing and surprising as to how a character changes over time, but believably so. Loved these two books, and cannot wait for more!!!
* I received this book from the author in return for a fair and honest review. *
---
The book preview accurately describes the book so I won't repeat it. As the story is full of twists and surprises, I do not want to give any more of the story away than is stated.
This is the first book I have read by the author and enjoyed her writing. Her prose is vivid and you don't have to guess what she is describing. Ms. Alonso-Sierra has a gift with words and it makes the book a pleasure to read. There is never any doubt as to the setting. The story takes place in different continents and you move with the characters never doubting where you are.
The plot starts out a little slower than I would have liked, but picks up and moves at a steady pace, making you want the story to continue.
My only suggestion to the author would be to fix a few point of view issues. There were several times I had to stop reading and go back to see whose POV the story was in, thus pulling me out of the story. Though this did not stop me from reading the book.
A fun read. By Amazon Customer on August 24, 2015
---
I loved this book. As soon as I finished The Coin, and realized that the same characters reappear, I knew I had some reading to do.
The Book of Hours was even better than the first. Perhaps because it was like reuniting with old friends. It was just as exciting, fast paced and fun to read. It really moved. It had a satisfying ending.
Fun and exciting read… By nighean dubh on July 15, 2015
---
The Book of Hours by Maria Elena Alonso- Sierra can definitely be described as a work of art. The imagery and visualization were done with astounding perfection. The author has a skillful technique of luring her readers into a web of blissful hunger. The words written come to life and are choreographed immaculately. The Book of Hours is a story about a woman who puts her family first above all, even if it means endangering her life and forfeiting her happiness. Will history repeat itself? Is Danger lurking at Gabriela's doorstep or will someone from her past pay her an unexpected visit? If you want to find out one click now. Secrets will be revealed and the revelation will be mind-blowing. This magnificent book will take you on a journey of love, friendship, family, betrayal, forgiveness, danger and most importantly second chances. I implore you, if you're reading my review get this series it is amazing. This suspenseful romantic thriller will leave you in an inescapable desire. Do not hesitate to one click five stars guaranteed.
Outstanding***** By Stracey Charran Ishwar on June 11, 2015
---
One of the best books I have ever read! I couldn't put it down… Thank you, looking forward to another!
One of the best books I have ever read By John Fitzpatrick on April 22, 2015
---
What a great read. Could not put the book down since I started reading. the Book of Hours is full of suspense and surprises. Three cheers for the author! Both books capture your interest and keep you hooked until the end.
What a great read. Could not put the book down since … By anitica on April 18, 2015
---
It didn't take long to climb back into the world of Gabriella and Richard. Lots of passion and action as Gabriella has a viscous stalker on her tail and Richard comes back after a 4 year absence to help save her. Can work as a sequel to The Coin or stand alone. Couldn't put this one down.
Riveting story By Pcost on April 4, 2015
---
I adored The Coin so I was highly anticipating The Book of Hours. And it didn't disappoint.
Ms. Sierra is a master story teller. The characters of Gabriela and Richard are wonderfully complex and full characters. Gabriela shows so much growth from the first book to this one (set four years later) but she still has the same spirit and humor. She was dealing with a lot and much had changed. What hadn't changed is that she is once again in danger. Richard is still in love with Gabriela but wanted to give her space to try to make her marriage work. But he was at his ends and was intent on reaching out to her, despite it all. Then he gets a fateful call to help protect her, just the opening he needed.
These two set the pages on fire! They had the same magnetism and passion as the first book but with more maturity. The suspense was well written but not predictable and had many twists and turns. It was fast paced and kept me on the edge of my seat. The story had me laughing and crying and anxious to keep reading. I can only hope that at some point we get to see more of these great characters!
Master story teller By A. Cleaver on March 31, 2015
---
What a wonderful sequel to The Coin. The Book of Hours had me hooked on the first page. I couldn't put the book down. I really enjoyed the suspense, as in the first book, and enjoyed the love story between the two main characters. I highly recommend this book.
Loved it!! By Yolma de Cardenas on March 28, 2015
---
The Book of Hours was a literary thrill ride! The characters were passionate and so well-written that you felt like you knew them personally. The story was fast-paced, full of action and interwoven with a great mystery, along with a horrifying bad guy. Who could ask for anything more?! Highly recommend!
Riveting Drama, Action-packed! By Amazon User on March 11, 2015
---
I couldn't wait for this sequel to The Coin and The Book of Hours was definitely worth the wait. The author knows how to keep the action going at a fever pitch, but she also keeps the tension between Richard and Gabriela as strong or stronger than it was in "The Coin." These two are both strong-willed people who also have strong principals. Their love story is one of the best I have read in a long while. Cheers to the author and I hope I don't have to wait long for another story about these two as they finally are able to be together — because I don't think the fireworks end with this book.
Their love story is one of the best I have read … By Sandra M. Bruney on February 27, 2015
---
I have been waiting to read this Book since I finished The Coin and I have to say that the wait was worthwhile! Once again Mrs. Sierra keeps you in nail biting suspense while at the same time engaging you with the intense, passionate relationship of Richard and Gabriela. There are chapters in which I felt like I was watching an episode of Criminal Minds, and others where it was like watching a beautiful love story! I just could not put it down, I even arrived very late at a dinner invitation because I couldn't stop reading! Highly recommend it!
I have been waiting to read this Book since I … By Irma on February 22, 2015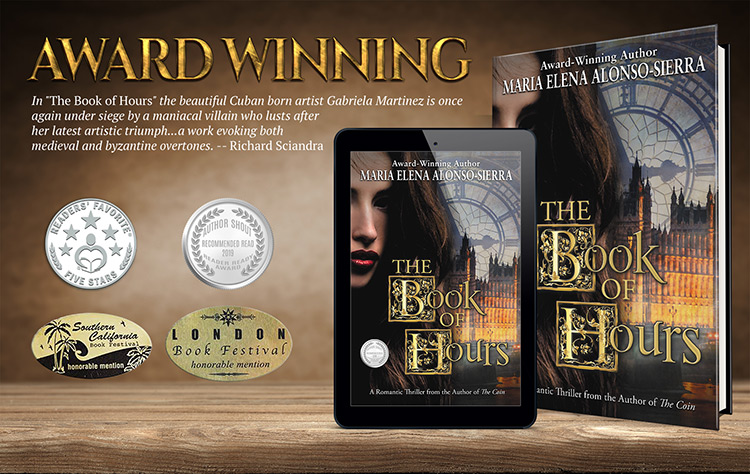 A preview of the excerpt on Amazon should have opened in a new window. If you do not see that window, click on the button below to access the excerpt.