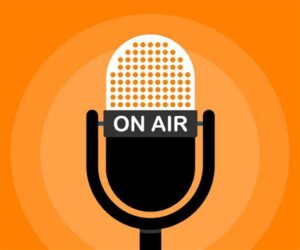 I created this Podcast Script as a Character Interview for an audiobook tour that recently took place. I am posting it here because it was so much fun to write! It also gives the reader an idea of how the characters interact with each other, which says so much about who they are.
Enjoy!
Thrills & Kills Podcast, Ep. 1
<podcast episode theme music by Charles Kahlenberg>
MARIA ELENA
Welcome, all ye listeners of my Thrills & Kills Podcast, where romance and mystery reign…with a twist, of course!
Hope everyone is having an awesome day and is ready for a great show. And, look at that. I see my regulars are already tuning in to today's podcast, as many other mystery fans are, as well. A big thanks to all, and for all your questions before the show, too. I'll try to get to all of them.
Also…remember to hit that thumbs up and share, share, share. Keep a sharp lookout, too, for all the goodies in my next newsletter. It will be a fun ride.
Before we start, I would like to issue a small spoiler alert. Today, as I announced last week, I have a special treat for everyone. It is my tremendous pleasure to introduce a crime-solving team every New Yorker can be proud of. I'm talking about none other than Detective Nick Larson, his partner Detective Victor Sacco, and his FID partners Tish Ramos and Josh Carpenter. (FID means Forensic Investigation Department, for those not on the know). We'll be asking them questions about the famous Howard murder case that took place close to a year ago. And that is where the spoiler alert comes in. For those not familiar with the case, I suggest you go to Amazon and to read up on the Nick Larson Prequel Short Story that is on Kindle Unlimited. It is a short read, concise, with details on the police procedures done to gift final exoneration to the woman mistaken for a killer.
Some of you want me to ask about any current cases the detectives may be working on. Unfortunately, my hands and my mouth are tied on that issue, since NYPDs finest won't divulge any information in order not to derail an ongoing investigation. But…you know me. I'll try…and probably get slapped down for it.
Anyway, let's start with introductions. Welcome to our Zoom chat, Detectives. Can each of you do the honors and tell our audience a bit about yourselves? Detective Larson, why don't you start?
LARSON
First, on behalf of myself and our team, we'd like to thank you for this invitation. 
MARIA ELENA
You're welcome.
LARSON
I've been a police officer with the NYPD for more than fifteen years, and ten with the 16th. Started as a street cop and worked myself up to my current position in the force…
MARIA ELENA
Which is?
LARSON
That of lieutenant. I've been partnered with Detective Sacco here for close to six years, and with Ramos and Carpenter for three. I live in the city, born and bred here. My parents died and are no longer with us.
MARIA ELENA
Oh, I'm so sorry, detective. Was it recent?
LARSON
No. Mom died of cancer when I was nineteen. Dad from emphysema ten years later.
MARIA ELENA
Any relatives here?
LARSON
No. My uncle retired from NYFD, that's the fire department, and they've been living in Palm Springs ever since.
MARIA ELENA
Any siblings, wife, or family members still living here?
LARSON
No.
MARIA ELENA
Well, from the expression on your face, I'm not getting an answer to that, right?
SACCO
As cops, we don't like to publicly release any family details, or personal information. It's a matter of safety, especially for our loved one. We deal with enough danger as it is. Heck, we don't even put our names on our mailboxes.
MARIA ELENA
I understand. Miss Ramos?
RAMOS
I am a trace evidence specialist with Forensics Investigations. My forte are fingerprint and chemical analysis. I received my degree from CUNY John Jay in forensic science about five years ago and have been working in the department since graduation. And, like Nick said, I have been working with the team for three. Also, born and bred here, but live in Brooklyn. Heck of a commute to the precinct, but then, what New Yorker doesn't shlep for hours to get to work?
MARIA ELENA
Detective Sacco, you're next. 
SACCO
Like Larson, I did my first stint as a street cop nine years ago, and the last six partnered with him in the investigations division. Unlike Larson, here, I come from a law enforcement family, also New York, born and bred. Have a sister who cooks the best Italian food ever.
RAMOS
Her garlic bread is to die-for.
CARPENTER
And her homemade lasagna is awesome.
MARIA ELENA
How about you, Mr. Carpenter?
CARPENTER
I'm a digital forensics specialist.
LARSON
He's our computer, camera, and video whiz kid.
CARPENTER
Been working with these guys since I graduated, too. Got hired three years ago, and I've been with this team ever since. Have a girlfriend.
MARIA ELENA
By the way, so that the listeners know, this isn't all your team?
LARSON
No. We're missing the Captain and our Medical Examiner. They're extremely busy, so they couldn't make it tonight.
CARPENTER
In this city, Totes is always busy.
RAMOS
OMG, No, no, Josh. It's Millsap. Millsap.
LARSON
Heck, kid.
SACCO
<laughing>
He's going to have your and our ass for airing his nickname on the radio.
MARIA ELENA
Keep it clean, please. It's a podcast, gentlemen.
RAMOS
And lady.
MARIA ELENA
Relationships?
SACCO
Only me and Tish.
RAMOS
In your dreams, Sacco.
SACCO
Hey. I'll get there.
MARIA ELENA
Is it always like this with you guys?
SACCO
Pretty much.
LARSON
We all have our private lives, but we don't talk about it much.
MARIA ELENA
Yes. I got the message. One of the 'don't ask' buttons. How is your working relationship, though?
LARSON
It's very good. We are like a body, everything in it works together to keep it functioning.
RAMOS
But Nick is the heartbeat.
LARSON
No, Ramos. Without everyone's input, thoughts, and observations, we wouldn't solve the crimes. We each work in our different departments, using our expertise, and bring to the table a piece of the whole puzzle. That is the way we get justice for the victims.
RAMOS
And your gut leads the way.
LARSON
Not that again.
MARIA ELENA
What do you mean?
RAMOS
Oh, Nick's gut is famous. If it hadn't been for his insistence that something was wrong in the slam-dunk Howard case, we'd have convicted an innocent woman.
LARSON
You found the print.
SACCO
But you figured it out. If you hadn't pointed out…
CARPENTER
And pointed out…
SACCO
…why the killer had insisted on shifting the security camera. If that hadn't been pointed out, Ramos wouldn't have concentrated on the image and print on it.
RAMOS
Carpenter helped, too.
CARPENTER
Had to fiddle with some filters, but got a really good still of the thumb from the security camera video.
MARIA ELENA
That leads me to several questions from my podcast members about the Howard case. First one is: What made you suspect Laura Howard had NOT murdered her husband?
RAMOS
It was the eyes.
SACCO
Laura Howard's eyes.
MARIA ELENA
Am I missing something here?
SACCO
Our lips are sealed.
LARSON
What these idiots are not saying is that, while interrogating her, we didn't…
SACCO
No. Not we. You didn't.
LARSON
Okay. So, I didn't believe she'd done it.
RAMOS
Told you. His gut.
MARIA ELENA
I'm sorry. I'm at a loss. Can you explain to our audience what you mean?
LARSON
The expression 'the eyes are the window to the soul' is not too far off. We're trained to catch nuances in criminals' expressions. Ms. Howard's manner was always one of horror, disbelief, and pain. That made me suspect there was something not right with the case.
SACCO
Not that sociopaths can't fool you.
LARSON
But Laura's demeanor in interrogation was not of a person who'd just brutally butchered her husband…
RAMOS
And don't forget her shirt, too, à la Jack the ripper. The clothing and pattern of destruction on it also gave us a clue.
CARPENTER
Especially when everything, including the crime, had been caught on the apartment's security video.
LARSON
There was disbelief and confusion there, too, when we presented her with that evidence.
SACCO
And as we went over the crime scene once more, getting it to talk to him, as my partner likes to say, we found one or two discrepancies with the evidence.
LARSON
What was constantly throwing us off was that the video showed Laura, in digital perfection, knifing the blouse, having brutal sex with her husband, then butchering him immediately after.
MARIA ELENA
Ouch
SACCO
Oh, it was something to see.
MARIA ELENA
Can I ask you something before we go on? It was another question posed by a podcast member. Many times you act flippantly, especially with each other, always joking around, often in a crude way. Why is that?
LARSON
It's how we stay sane. I know many people object to our gallows humor and dark euphemisms, but it's our way of coping with the brutality we deal with day in and day out. If you see what we see every day, you would institutionalize yourself in less than a week.
RAMOS
Or worse.
SACCO
Yeah.
CARPENTER
Yeah.
MARIA ELENA
What else gave you a clue that Ms. Howard was not guilty?
LARSON
She fidgeted with the camera after the fact. A normal person…
SACCO
Heck Nick. She's not normal.
RAMOS
Total psycho.
MARIA ELENA
Laura Howard?
SACCO
No. The real killer. Sandra Ward.
LARSON
You see, a normal person, wanting to hide his or her crime, would, at best, disable the security system first or, at worst, block, even move the camera out of the way so it wouldn't record the killing. But that wasn't the case here. Sandra Ward moved the camera AFTER the butchering had been recorded.
SACCO
It was an in-your-face kind of thing. As if daring us to prove she HADN'T done the killing…
CARPENTER
And who can dispute a video in court? The images clearly pointed the finger at the guilty party: Laura Howard.
RAMOS
If it hadn't been for Nick's persistence and insistence, I would never have checked the fingerprints on that camera.
MARIA ELENA
Weren't you going to check those anyway?
RAMOS
No, not really. Not with video proving she had done the murder.
LARSON
We'd have sent an innocent woman to jail, and let another one, the real killer, free to go about her life.
MARIA ELENA
What was your reaction when you found it was her unbeknown twin who had committed murder?
LARSON
Satisfying. Very satisfying.
SACCO
And creepy AF.
MARIA ELENA
Must have been something to face Sandra Ward.
LARSON
Remember my comment about the eyes? It was uncanny…
SACCO
Not to mention disturbing…
LARSON
…interrogating someone who had the same hair color, eye color, nose, and lip shape. Who had a mole exactly at the upper right hand corner of her upper lip. Height, weight. Everything exact, except for fingerprints and the expression in the eyes.
MARIA ELENA
Cynical?
LARSON
More than that. Sandra Ward's eyes spoke of lifelong hustling, of street experience. They were uncaring eyes. Calculating most of the time. Jealous and focused inward. Opportunistic. Reminded me of my late ex-wife's eyes.
MARIA ELENA
Whoa! Stop the press! You had a wife?
SACCO
Look at the time, buddy. We have to split. Say 'bye, everyone.
MARIA ELENA
Wait! Wait! Darn! They cut off the Zoom link. Well, folks. There you have it. New York's finest exiting the Zoom link all at the same time. It is true what they say: police officers are tight lipped about their personal details. Anyway, our time is up. Hope you all enjoyed our program today. And for those who want to learn more about the Howard case we were discussing, all the details are in "Mirror, Mirror: A Prequel Detective Nick Larson Short Story," available in Kindle Unlimited. The links to the case are pinned below: https://www.amazon.com/gp/product/B08H5TS9DT/.
Take care, be safe, and see you next time on my Thrills & Kills Podcast, where we will be speaking with Artist Gabriela Martinez and yummy Richard Harrison about their grueling time in the French Riviera.
'Bye!
<podcast episode theme music by Charles Kahlenberg>